Agitating Flotation Machine is generally used in separating copper, zinc, lead, nickel, gold and other non-ferrous metals, as well as the roughing and concentration of ferrous metals and nonmetallic minerals. Flotation process is suitable for processing fine granules and micro-fine particles. Flotation is one of the most important technical processes applied by now. It has an extensive application scope. The numerous production practices have proved that the agitating flotation machine produced by Hongxing Machinery is able to achieve the expected results.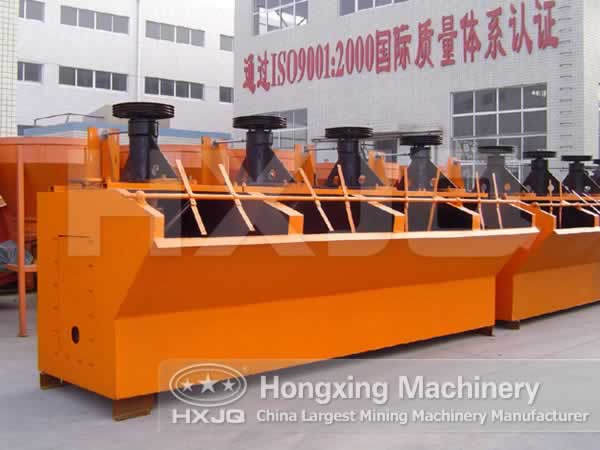 Our agitating flotation machine is characterized by stable performance. It makes use of the impeller-stator system to realize aeration and agitation and makes air evenly dispersed in most of the areas around the impeller blades in advance. This system can provide a larger interface between ore pulp and air.
The scavenging cell and concentrating cell is generally 1 mm lower than the roughing cell, for the sake of the gravitational flow of ore pulp. The concentrate products from scavenging and the ore tailings from the concentrating both can flow automatically into the agitating tank and then will be injected into the roughing cell together with the raw ore by the pump and forms a closed cycle.
Product improvement:
Agitating flotation machine makes use of the gas-lift air with a certain pressure to stir the ore pulp. The stirring power of flotation machine itself is small, saving energy remarkably. It is equipped with a high-speed mixing device and atomization device for minerals, agents and air.
Our agitation flotation machine has a lot of advantages, including:
1. Good flotation indexes;
2. High utilization rate of air and agent;
3. Large scale and easy to choose model;
4. Anticorrosion and antiwear and long service life;
5. Low maintenance cost and economical production;
6. Small investment and small area coverage.