Vibrating feeder is also called vibration feeder. During the production process, vibrating feeder is designed to convey the massive and granular materials evenly and continuously into the material-receiving equipment from the storage bin. In sand and gravel production lines, vibrating feeder can realize a continuous and even feeding to the crushing machinery. It plays an important part in the crushing and screening operations in metallurgy, coal mine, beneficiation, building materials, chemical industry, abrasive materials and many other industries.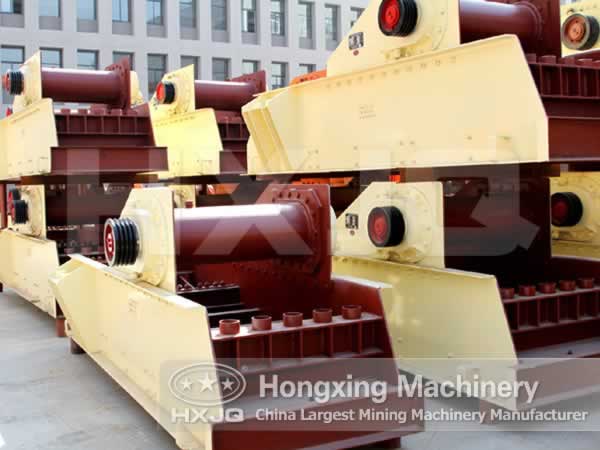 Vibrating feeder has a wide applicable scope because of its features of adjustable feeding during the operating process, convenient maintenance, small wear to the conveying chute and easy to realize automatic control. In addition, vibrating feeder is also characterized by no moving parts, no lubrication points, simple structure, small weight, little driving force and so on. In coal preparation plant, from the input of raw coal to the output of the finished products, each procedure can not leave the vibrating feeder.
Vibrating feeder is of high automation degree and the model can be determined according to customers' specific demands on aggregate specification, production capacity and uses. Hongxing Machinery is capable of customizing the most suitable equipment in line with customers' production sites, and building the perfect vibrating feeders with modern scientific technologies.